Let's Talk About a Subject I Love: "Standing Out"
You know, recently I asked myself what makes a company truly successful—spoiler alert: it has a lot to do with standing out from the crowd.
This might sound like the silliest 'Aha! moment' ever, but I realized that to stand out, you need to be outstanding.
It doesn't sound like a revelation, right? The meaning is right there in the word "outstanding".
The only reason I bring it up is that there are many businesses trying to "hack" and "disrupt" industries through gimmicks and stunts—rather than putting the effort into what really makes a business special.
There's a simple way to stand out:
Offer outstanding products or services.
Provide outstanding customer service.
Work on having an outstanding brand.
Put out an outstanding marketing campaign.
Standing out is not easy, but it IS simple.
If you ask me, far too many businesses are losing sight of the fundamentals while trying to catch up with trends or become trendsetters themselves.
And look, there really are some products that are destined to be a revolution, and there are also extraordinary spokesmen who could sell ice to a polar bear. But, not everyone can be the Steve Jobs of the new generation.
So what happens with the other 99.9% of businesses that are not like Apple, who are not incredibly successful yet?
What happens to the businesses that are just doing "okay"?
If you feel like there's something missing in your business, maybe all you need is for someone to nudge it in the right direction. And that can be you. My advice is to go over the fundamentals and grow from there.
To me, being a good leader is all about inspiring others to go further. Supporting them and inspiring them to strive for better than good. And the biggest problem that I've encountered time after time with most businesses is that they don't focus enough on becoming better in the areas that really matter.
Most businesses compete on the same level:
They have a generic logo they had designed as an afterthought.
They sell products and services of decent enough quality.
They don't have an active strategy to improve their online presence.
Their website doesn't make sales, it just sits there.
Their customer service is unreliable.
Their price points are similar to those of their competition.
And look, I'm not saying your business has every single one of these issues, but we all have our shortcomings here and there.
These are just some examples of the many possible areas of opportunity you might find in your own business. They are the obstacles that might be stopping you from standing out. As soon as you work on each of these areas, you'll start breaking through the obstacles that might be holding back your business. So let's make a conscious effort to "stop" some of these practices.
Stop competing with everyone else.
Stop pulling your punches.
Stop doing things halfheartedly.
Let's fight the good fight and ascend to a new level in which the competition is less and the rewards are more.
I truly believe your business will be very successful as long as you don't let the shiny object syndrome get in its way and focus on what matters instead.
Are you ready to take all the tough choices very few people in your market dares to take?—Good! Because I'd like to come along for the ride.
Which brings me to…
My Full Disclosure
I wrote this post because I want to encourage entrepreneurs and business owners to subscribe to my newsletter so we can share ideas and learn from each other.
If you sign up with your name and email address, I'll share everything I know on how to start working on these areas of opportunity. If you're tired of hacks, cheap-tricks, and pseudo-experts showing you how to 'disrupt' every industry. Join me instead, we'll slowly but surely grow our businesses together in a smart, sustainable way.
Oh! And I promise never to spam you. As you may know, sending spam is not good for business anyways.
In the meantime, if you want to see some of the work I've done for my clients, feel free to browse through my portfolio it's full of interesting branding projects that I've worked on for businesses in tech, health & wellness, food & beverage, real estate, and other industries.
Thanks for reading! Talk soon!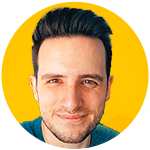 I have ten years of professional design experience and more than five years in lead design roles. I like to write and make behind-the-scenes videos about design, marketing, leadership, and productivity. In my downtime, I'm passionate about illustration, photography, game design; and cold brew coffee. Make sure to say hi → [email protected]